Successes
He married at the age of twenty-two to a local girl named Betsey James and had two boys, Nicholas who became an art dealer, and James who became the third generation artist in his family. Interestingly, although James' father was the most popular artist in his family history, he was greatly inspired by his grandfather's illustrations.

He was featured on the cover of American Artist as well as many other famous magazines such as the Saturday Evening Post that displayed his painting "The Hunter." His first solo museum exhibition was presented in 1951 at the Farnsworth Art Museum. Since then he has seen many more successes and is considered one of the most "collectable" living artist's of our time.

Andrew Wyeth died on January 16, 2009. After a brief illness, he passed away in his sleep at his home in Chadds Ford, Pennsylvania. He was 91 years old.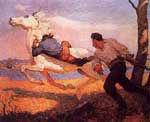 "With watercolour, you can pick up the atmosphere, the temperature, the sound of snow shifting through the trees or over the ice of a small pond or against a windowpane. Watercolour perfectly expresses the free side of my nature." - Andrew Wyeth