Inspirations
When the name Andrew Wyeth is spoken, the famous painting "Christina's World" comes to mind, being his most popular work to date. It exemplifies his mastery of unusual angles of perspective and his use of light to pinpoint time. The painting was inspired by a neighbour of the Wyeth family in Cushing, Maine named Christina Olson who suffered from infantile paralysis. Wyeth was inspired to paint her as he watched her gazing up at her house from the wide field in front of it.

Andrew Wyeth prints have been favourites among important world leaders. "The Trodden Weed" was a personal favourite of the former soviet leader Nikita Khrushchev while "Nicholas" was admired by U.S. President Dwight D. Eisenhower. "Her room" and "Spring Fed" are other favourite Andrew Wyeth paintings among his many other artworks.

Read more about the inspiration for recent works by Andrew Wyeth.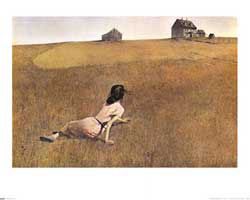 Andrew Wyeth Firsts
He received the U.S. Presidential Medal of Freedom in 1963, and in 1970 he became the first living artist to be accorded an exhibition in the White House.
In 1978 he became an honorary member of the Soviet Academy of the Arts.
In 1980 he became the first living American artist to be elected to Britain's Royal Academy.
His show at the Whitney Museum of American Art broke the museum's attendance record in 1967.
The page was made with Mobirise web template